Judge William J. Haddad (ret.)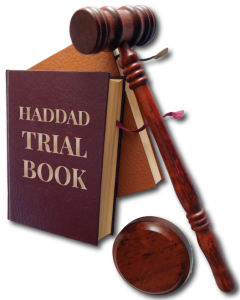 Our Complimentary Resource:  The Haddad Trial Book
Here are 40+ sets of jury instructions selected from over 350 jury trials with verdicts from a few thousand dollars to $81 million. There are both web pages and MS Word files (.doc) for download, separation, and numbering. There are also Jury Selection, Trial and Mediation Tips and other related articles.
They are not presented as ironclad "law", but rather to reflect the efforts of a jury trial judge and the highly skilled litigators who appeared in my courtroom in Chicago. They are offered for your use in the spirit of the camaraderie of our great profession.
Click Here to begin exploring this resource.
---
Consultation, Representation & Mediation in Complex Civil Trial Litigation
Top Reasons to contact Judge Haddad (ret.) with legal concerns:
§       Actual jury trial experience both as a Lawyer and as a Judge in noted Illinois cases
§       Heavy Business Experience
§       Highly Respected Member of the Legal Community
§       Senior Mediator and Arbitrator with ADR Systems of America.
§      Of counsel with  Schlack & McGinnity, P.C.
During his more than 10 years on the Bench, Judge Haddad received the highest ratings of the Bar Associations, and high praise from trial attorneys (See Law Bulletin Article). He presided over thousands of cases, including more than 350 jury trials covering major accidents, medical malpractice, product liability, construction accidents, contract, commercial and insurance matters. He has lectured and  published articles extensively. (See Trial Book) Before assuming the Bench, Judge Haddad was a trial lawyer and bar association leader for over 30 years. He has also served as an adjunct professor of trial advocacy at UIC/John Marshall Law School.
Judge Haddad presently serves as a  Senior Mediator and Arbitrator with ADR Systems of America. And he practices of law with his former law firm, as "of counsel". (Schlack & McGinnity, P.C.)
He received his B.A at Marquette University, and his J.D. from DePaul University College of Law. He began his legal career as an Assistant State's Attorney of Cook County, and later was a founding Partner in the law firm of Haddad, Schlack & Associates. Prior to his judicial appointment, Judge Haddad had been a trial lawyer with more than 30 years of litigation experience. In 1990, he was the founder and first President of the Arab American Bar Association of Illinois.  Later, in 1998, he became the founder and first President of the Suburban Bar Coalition of Cook County. He also was a founder and served as President of United States Mutual Association which provides specialized employment security services to the Nations' leading banks, hotels, and retailers. Judge Haddad served on two gubernatorial transition teams 2002 and 2019.
Judge Haddad has been recognized for his achievements with awards from the  Illinois State Bar Association, Crime Stoppers of Illinois, Suburban Bar Coalition of Cook County, West Suburban Bar Association, University of Wisconsin Law School, Northern Illinois University College of Law, Chicago Commission on Human Relations, Arab-American Bar Association, Muslim Bar Association,  and St. Ignatius High School Law Society.
He is happily married to his wife, Sandra, for 45 years and has two adult children.
    Please contact Judge Haddad at Schlack & McGinnity, P.C.  312-368-1266.
---
"I am excited to be back to the business of advocating for people with legal problems".
– Judge William J. Haddad (ret.)